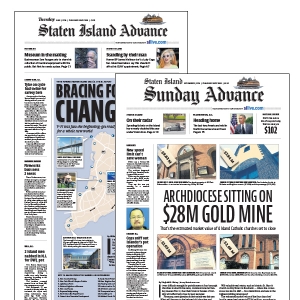 Telling Staten Island's Story
The Staten Island Advance was originally established in 1886 as the Richmond County Advance, a small four-page weekly newspaper.  It was the first newspaper purchased by S.I. Newhouse.
Today the Staten Island Advance is a daily newspaper published in the borough of Staten Island in New York City. Then and now the Staten Island Advance has been telling the stories that shape our local history.
Staten Island's Most Trusted Source
The Staten Island Advance offers extensive daily local news as well as sports, high school sports, entertainment, jobs and classified themed sections. Inside its pages readers will find the most trusted local news and special interest stories relevant to living in the New York City metro area. The  Advance also publishes special sections throughout the year on a wide range of topics.
The Staten Island Advance supports the community it serves. As a strong supporter of community events, the Staten Island Advance sponsors a Memorial Day Run, three All-Star High School Sports awards, and a Women of Achievement Luncheon.
The Staten Island Advance has been recognized for excellence in content and design by the New York State Associated Press Association, the Society for News Design, the Deadline Club of the Society of Professional Journalists, and the Newswoman's Club of New York.
For more information contact us at 718 816 2804 or advertising@siadvance.com