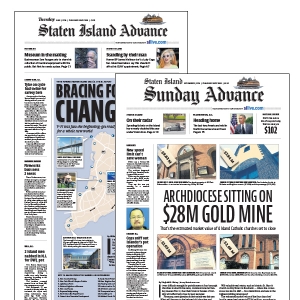 No matter your budget, the Staten Island Advance has options to meet your advertising needs.
Whether you're a subscriber with a garage full of gadgets to sell, a retail business in need of customers or a business in search of a new employee, you'll find it easy to manage your advertising needs with the Staten Island Advance.
The Staten Island Advance has been the trusted resource and voice of Staten Island newspaper readers for more than 150 years, reaching business decision makers and consumers in Richmond County. It is the No. 1 resource for readers searching for businesses and services, which makes it the best newspaper to place your ad and reach targeted Staten Island, NY customers.
Our in-house team will help you create a strategy to meet your advertising needs – and can even assist with designing your newspaper ad for you – for placement in the printed version.
Readers rely on our exclusive content to educate, inform and entertain. And for every topic we cover, there's a built-in audience for our advertisers. The Staten Island Advance produces custom print content through Special Sections and weekly Features.
For more information contact us at 718 816 2804 or advertising@siadvance.com