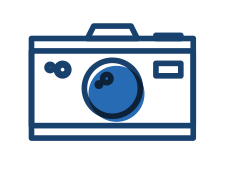 The saying "a picture is worth a thousand words" is more than 100 years old, but is the saying still a valid statement in our century? With consumer attention spans at a quick 8.25 seconds, you would think that a picture that conveys your message quickly and efficiently is even more valuable than it was 100 years ago. In fact, with the ability to take photos digitally, consumers worldwide were projected to take almost 1.2 trillion digital photos in 2017. As content becomes more global, and as the popularity of image-centric social networks rise, photos are becoming a universal language that can communicate to every audience.
Using images in marketing is essential on a biological level. When people hear information, three days later they will recall 10% of it, but when you add a picture, they will retain 65%. Marketers can use this to their engagement-boosting advantage. Turns out, even the kinds of images that are used are important, as shown by a fascinating study by Netflix on the clicking habits of their consumers based on, among other factors, demographics and location.
According to the Social Science Research Network, 65% of humans are visual learners. If you look at some of the fastest-growing social networks – Pinterest, Instagram, Snapchat, Tumblr – it's easy to see that the way people are consuming content is drastically and quickly changing, and the value of visual content will only continue to increase in the near future.
Take your content marketing to the next level with these types of visual content:
Tips and Tricks for Great Images:
Use images throughout blog posts and social media. Visual content is more than 40x more likely to get shared on social media than other types of content.
Brand your images with your logo and company colors. Adding your logo onto your images ensures you get the credit when images are shared. Using brand colors will help increase awareness and will remind people whose content they are seeing.
Use a variety of images. Custom images, stock images, graphs, and charts, or embedded images from Twitter or Instagram can help you step up your image game.
Don't forget about SEO for your images. Make sure when you add images to your blog posts that your alt tags are included so search engines can find your content easier.
Staten Island Media Group can help you tell your story through content and display channels. Contact us to learn more.