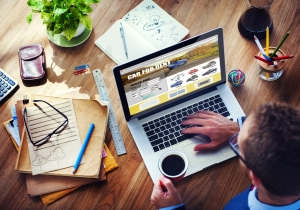 Six Tools to Help Better Understand your Business: research tools available to help you understand your business's online presence.
Whether you've just started your business or have been in business for quite some time, building your online presence is crucial, but can be time consuming and, at times, frustrating. Bill Cooke, Search/SEO Sales Director provides you with six tools to get started.
Google Analytics (GA) – Strategically understand data collected from your website audience. Identify trends, gaps and areas of untapped potential. GA tells the story of how the user got to your site, where they visited, what they interacted with and how much time they spent on your site.
Google Mobile-Friendly Test Tool – With the mobile boom, if you're not mobile-friendly today, kiss your potential customers goodbye before you even get a chance to speak. In fact, in late April 2015, Google's algorithm was updated to significantly affect organic rankings for those sites who provide users with a negative mobile experience. Check to see if your site is mobile friendly and recommendations to enhance here: https://www.google.com/webmasters/tools/mobile-friendly/
Google PageSpeed Insights Tool – Analyze web pages by learning about certain aspects that might be slowing down your user engagement. Plus, this tool will generate suggestions to make that page faster on both desktop and mobile versions. Measure the performance of a web page here.
Google Keyword Tool – Assess market-specific search engine traffic volume, preferred devices used and geographical trends of this high-converting audience. Also, pull estimated costs to be competitive in reaching your particular audience.
SEMRush – Analyze organic search positioning, paid search & display ad content and keyword targets to help uncover your competitors' strategies and messaging.
Moz.com/local – View your business information customers see on authoritative directory sites. Look for consistency between your website distinction of your Name, Address and Phone Number against what is Verified and listed on these sites. Ultimately, we're looking for a perfect match so customers can find the location and the engines trust and update your map visibility.
Using these tools will help clarify your current and potential audiences, competitive landscape and strategic approach to reaching them at the right time. Here's what Bill Cooke recommends:
Set Goals: Define what you'll measure as campaign success and establish the right solutions and targeting to achieve those goals.
Topical research: Build content where and around what your customers are searching for.
Engaging site content: Attract targeted audiences to your site and entice them to take action.
Online branding: Strategic awareness off your site drives more potential customers to find/visit your site. Invest in SEO/strategies that include: Content Marketing/PR, YouTube videos, Social, and Authoritative Referral Sites.
Measure results: Know how your customers are engaging and optimize to attain more of those desired results.
Campaign optimization: Utilizing the Staten Island Media Group team for clear communication, strategic adjustments and industry-leading technologies to achieve your ultimate campaign goals.
Your business's online presence is so important – it directly affects how easily current and potential customers find you, interact with you, and get to know, like and trust you. But building your online presence can be less time consuming and less frustrating if you know where to start. Staten Island Media Group can help you understand and increase your online presence by engaging our skilled team of search experts and our internal optimization tools.
Written by: Monica Sandler, Marketing Research and Data Manager